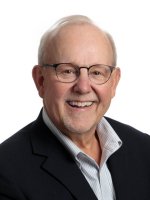 Charles Menghini
2020 KMEA All-State 56A Band Conductor

Charles T. Menghini is President Emeritus,of VanderCook College of Music in Chicago, Illinois. Dr. Menghini served as President and Director of Bands from August of 2004 through May of 2017. Prior to that time, he served as Dean of Undergraduate Studies and Director of Bands. Menghini began his teaching at VanderCook College in 1994 and along with being Director of Bands, taught instrumental conducting, organization and administration, curriculum and supervision, brass methods and rehearsal techniques classes.
Charlie brought with his appointment to VanderCook 18 years of successful high school band experience in Missouri and Kansas. Bands under his direction received consistent Division I ratings in regional, state and national music festivals, performed at various state music educator conventions and performed in the Tournament of Roses Parade, Orange Bowl Parade, Bands of America International Festival and the XV Olympic Winter Games in Calgary, Alberta, Canada.
Originally from Iron Mountain, Michigan, Menghini attended Northern Michigan University and the University of Missouri – Columbia where he earned his Bachelor of Science degree in Music Education. He earned a Master's degree in Educational Administration from the University of Missouri-Kansas City and a Doctorate of Arts in Wind Conducting from the University of Missouri-Kansas City Conservatory of Music where he studied with Gary Hill. In addition to Hill, Menghini recognizes Tim Lautzenheiser and Gary Green as being most-influential teachers in his growth and development.
Charles Menghini is co-author of the Essential Elements Band Method, published by the Hal Leonard Corporation. He also a frequent contributor to numerous professional journals and magazines.
Charlie frequently serves as a clinician and adjudicator throughout the United States, Canada, Europe, Australia and New Zealand, and has actively worked with over 350 school and community ensembles from 20 states as well as Canada, Japan, Southeast Asia and Australia. He has conducted all-state ensembles in Wisconsin, North Dakota, Georgia, South Carolina, Nebraska, New York, Virginia, and Minnesota, and has presented numerous clinics at the Midwest Clinic in Chicago and state and regional music educators in-services throughout the world.
In 2019 he was awarded the Medal of Honor from the Midwest Clinic for his life's work as a band director, teacher and educator. Menghini is a Lowell Mason Fellow and is a member of the American Bandmasters Association, College Band Directors National Association, the National Band Association, National Association for Music Education, and Phi Beta Mu. He was inducted into the Alpha Psi Chapter of Pi Kappa Lambda National Honor Society for Music – the highest honor a conservatory faculty can bestow on a student in recognition of outstanding musicianship and scholarly achievement and is an honorary member of the Xi Kappa (VanderCook College) Chapter of Phi Mu Alpha Sinfonia.
Charlie is a Senior Educational Consultant for both Hal Leonard of Milwaukee, WI and Conn-Selmer of Elkhart, IN. Dr. Menghini also serves as an educational member of the Music Achievement Council of the NAMM Foundation. An active performer, Charlie played lead trumpet in the Kansas City Chiefs Professional Football Band for fifteen seasons and served as the official trumpeter of the City Club of Chicago.