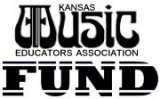 As musicians, we are always looking for a nice, full sound. Great music needs to sound great. We work as individuals to produce the best, most pleasing sound possible throughout our musical lives. As music educators, we strive to have a room full of students doing their best for the group. We all know that if every person in the group is contributing his or her best, the group will be able to show progress for the goal.
This same outlook holds true for the KMEA Fund. We are currently able to underwrite four out of six of our scholarships. That is nice, but we can do even better. Once we have all six KMEA scholarships fully underwritten, we can start using proceeds from the KMEA Fund to help with projects that will help our membership and be able to start awarding mini-grants for the betterment of music education and music students in Kansas.
KMEA Members can receive up to $200 to enhance curriculum in the classroom. Learn more about the
CODA Grant
.
Your support of the Kansas Music Educators Association will:
** Endow the current KMEA Scholarships **
** Establish future scholarships **
** Establish grants to music teachers **
** Establish future grants to school music programs **
Please make tax-deductible checks to the "KMEA FUND" and send them to:
John Taylor
KMEA Executive Director
614 N. Parkdale
Wichita, KS 67212
As a musician, you know the importance of time, no matter how you define it. We are always looking for the best use of time for the best results. We would like to invite you to join us in supporting the KMEA Fund. The way we look at it, it is perfect timing to get this project off to a flying start. Economic times have been tough, but they are climbing back up. In your personal investments, we're sure you have seen movement in the right direction. Even though our investments are not where they started, all the current indications are that the worst is behind us.
What does that have to do with the KMEA Fund? Any dollars we can invest now will be magnified as the economy recovers.
There are several giving levels, one of which we are confident will easily fit your donation budget. KMEA will recognize your philanthropy at each of the levels with a "thank you" gift. Of course, the gifts are cumulative through the levels.
| | | |
| --- | --- | --- |
| Donor Level | Contribution | Thank you |
| Maestro | $10,000+ | Scholarship naming option |
| Composer | $5,000 – $9,999 | KMEA Fund memento |
| Virtuoso | $1,000 – $4,999 | Listed in the State Festival Program |
| Soloist | $500 – $999 | Listed in the Kansas Music Review |
| Musician | $100 – $499 | Listed in the Kansas Music Review |
| KMEA Friend | $25 – $99 | Listed as a donor on the website |
As you can see, there are levels that can be attained easily so you can help support our profession here in Kansas.
KMEA currently awards five $500 scholarships. As the Fund balance increases, the KMEA Fund will permanently endow these scholarships, add additional scholarship monies, and start grants that will be available for music educators and classroom projects.
We had a goal of $100,000 within the first two years of the Fund. When I first heard this, I thought "Wow, what a pipedream!" Then I started thinking about it. If we could average giving at the "Musician" level throughout our membership, this could happen and we could start awarding grants before the next school year concluded. We have the opportunity to help not only students who qualify for the scholarships, but can help each other develop great music education opportunities for the students in Kansas classrooms.

Join me in supporting our profession financially through the KMEA Fund. Please make your tax-deductible checks to the "KMEA Fund" and send them to John Taylor, KMEA Executive Director, 614 N. Parkdale, Wichita, KS 67212. The timing is perfect to have a positive impact on music education in Kansas.

Thank you!

Gayle McMillen
KMEA Fund Manager
KMEA Past President
KMEA Hall of Fame Member
MENC Southwestern Division Past President