The 2022 In-Service Workshop will see the start of a new ensemble, the KMEA 12A Honor Band. This new group is not an "All-State" ensemble as it is not an auditioned group. To be eligible, students from 1A-2A high schools must complete an audition for their KMEA district honor band. Directors will submit nominations to KMEA, and the final roster will be selected from that list. Students will have an opportunity to be in a state-level festival ensemble with an outstanding clinician, composer Ed Huckeby. The 2022 12A Honor Band will rehearse and perform as part of the 2022 In-Service Workshop. The concert will be on Saturday, Feb. 26 at 1:00 PM in the Century II Concert Hall.
---
12A Honor Band Guidelines
General Info
Seating in the 12A Honor Band will be a merit-based process determined through nominations. There is no audition. There will be no nomination fee.
The 12A Honor Band is NOT an All-State Band. The tentative size of the group is 75-80 students.
Timeline
Nominations will open on January 20 (or after the All-State Bands results are posted, whichever is later) and will close on January 30.
The final list of participating students and alternates will be posted on the KMEA website no later than February 10.
Music will be sent to the accepted students before the first rehearsal.
Schools will be charged a participation fee similar to All-State participation fees.
Students are required to attend all rehearsals and the performance during the KMEA ISW (refer to All-State rules for accepted excuses to rehearsals).
Students with known conflicts should not be nominated for the 12A Honor Band.
Who May Nominate
The teacher who nominates students must be a member of NAfME/KMEA.
The teacher must be the instrumental music teacher at the high school where the student attends.
(Exceptions for this policy must be approved by the KMEA Executive Committee.
Exceptions will not be approved if the high school has an instrumental music teacher.)
Who May Be Nominated
Students may not be a member of both the 12A Honor Band and the All-State 1234A Band during a single school year.
Students must audition for their KMEA District Band to be eligible for membership in the 12A Honor Band.
If students do not earn a seat in the District Band, they will still be considered for membership in the 12A Honor Band.
Students must meet the following eligibility rules for the KMEA 12A Honor Band.
Each Student:
will be in good standing according to the rules and guidelines for participation established by the KSHSAA and the resident school;
must be a freshman, sophomore, junior, or senior in high school;
must be enrolled in an instrumental performance area, if one exists in the school, at the time of the KMEA In-Service Workshop;
must have completed an audition for their KMEA District Band.
School Responsibility
The nominating school must meet the following eligibility rules for the KMEA 12A Honor Band:
will be a member of the KSHSAA or a KSHSAA Approved School and be in good standing with the organization;
will be responsible for the supervision, conduct, and behavior of its students during the entire KMEA In-Service Workshop.
---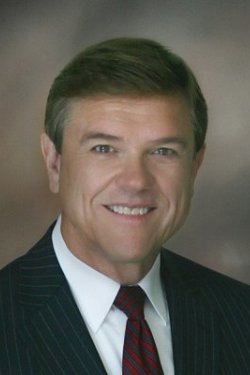 Ed Huckeby
2022 KMEA 12A Honor Band Conductor

Ed Huckeby is currently an arts consultant and freelance composer, arranger, conductor and clinician. In addition to his career as a composer, he has been an influential figure in higher education and arts administration, most recently serving as President of Southwestern Christian University in Bethany, Oklahoma. Prior to his appointment at SCU, he was Associate Vice President for Academic Affairs and Professor of Music at Northeastern State University-Broken Arrow (OK). Huckeby also served as an arts administrator for Tulsa Ballet Theatre, Inc., and holds the title of Emeritus Professor of Music at Northwestern Oklahoma State University where he served for over two decades as Music Department Chairman and Dean of the Graduate School. He is internationally recognized as an outstanding music educator and composer of over 200 published works. Huckeby's performance background and experience is very eclectic, having been a member of a symphony orchestra (horn), a jazz band (trumpet), and a contemporary Christian quintet (bass guitar, keyboards and vocals), as well as having served regularly as a church organist and pianist. His outstanding contributions to band literature have played an important role in the development of the contemporary band repertoire. Dr. Huckeby holds a bachelor's degree in music education from East Central University (OK), a master's degree in music education from the University of Oklahoma, and a doctorate in administration from Oklahoma State University with additional study at the University of North Texas. He has written music education articles for The Instrumentalist, The American Music Teacher, and The Journal of the International Horn Society, and has held memberships in Music Educators National Conference, Oklahoma Music Educators Association, Oklahoma Bandmasters Association, ASCAP, Phi Mu Alpha Sinfonia, and Phi Beta Mu, where he served as a member of the national board of directors and state chapter president. Huckeby was selected as an "Outstanding Young Man in America," is listed in the "International Who's Who in Music," and has been an annual recipient of the ASCAP Plus Award for almost three decades. Huckeby was inducted into the Oklahoma Bandmasters Association "Hall of Fame" in 1996 and has recently been recognized by East Central University as a "2020 Outstanding Alumnus." He has created over 60 commissioned works and has served as a clinician, adjudicator and conductor for instrumental ensembles around the world, including Japan, Australia, Norway, Canada and across the United States.