Are you a first or second year Kansas Music Educator? If so, the KMEA Mentoring Network is here to provide you with opportunities to…
CONNECT with experienced mentors and fellow beginning music educators
ENGAGE in professional learning through mentoring events and online discussions
ENJOY SUPPORT AND ENCOURAGEMENT from a community of professionals who are committed to your success.
Register your email
If you would like to receive monthly emails from the KMEA Mentoring Network (and you aren't already receiving them) please fill out our contact form. Once you have registered, The KMEA Mentoring Minute will be delivered to your inbox and the mentoring team will be in touch.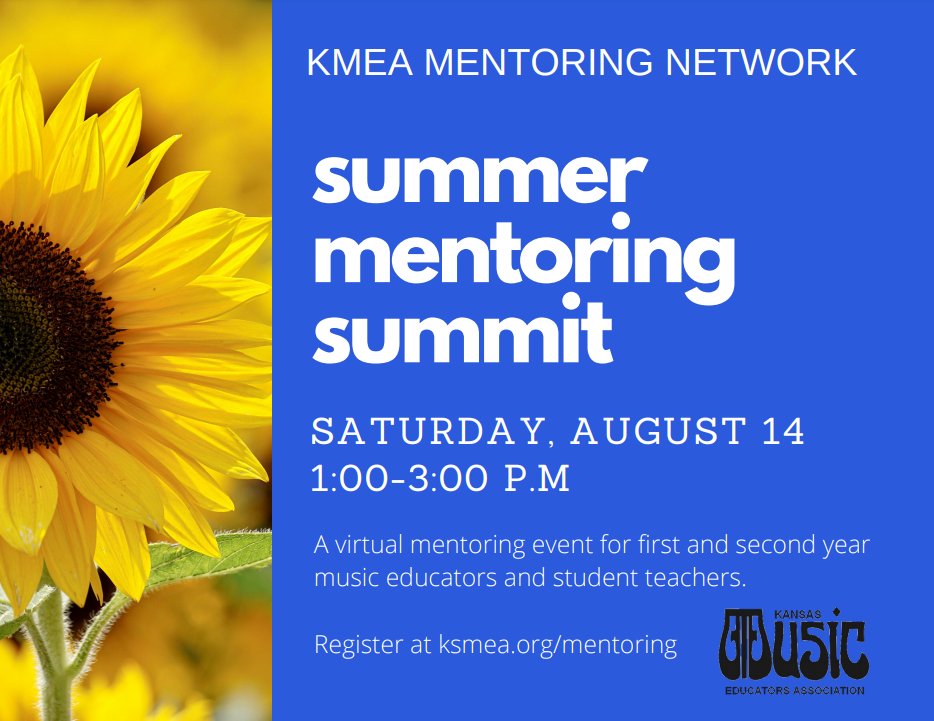 The KMEA Summer Mentoring Summit is designed to help first and second year teachers and student teachers prepare for the 2021-22 school year by connecting them with mentors in their content area, providing them with "just in time" information, and giving them some activities to help them make connections with their students during the first weeks of school. Registration is free. The Zoom link and password will be emailed to registrants the week before the event. If you do not receive the link, send us an email.
---
Mentoring Calendar 2021-22
Contact Mentoring team for Zoom links.
Summer Mentoring Summit
August 14, 2021, 1:00 – 3:00 PM, via Zoom
Register for Mentoring Summit
Fall District Mentoring Meetings for Beginning Music Educators
Northwest District: August TBD, via Zoom and October 17, 3:00 PM, Phillipsburg Huck Boyd Center
North Central District: August 25, 2021, 5:00 PM, Manhattan HS, Downbeat Meeting
Northeast District: September 13, 2021, 5:30 PM. Lawrence HS, before Fall Dinner and Business Meeting 6:00 – 9:00 PM
East Central District: September 7, 2021, 5:30 PM. Gardner Edgerton HS, before Fall Dinner and Business Meeting 6:00 – 9:00 PM
Southwest District: New Teacher Fall Kick-off, August 29, 2021. 2:00 – 4:00 PM, via Zoom
South Central District: August 28, 2021. 10:00 AM, Newton HS
Southeast District: Summer Kick-Off, August 21, 2021, 1:00 – 3:00 PM
Mentoring Hangouts – via Zoom
Saturday, August 28, 2021, 10:30-11:30 AM
Saturday, September 25, 2021 10:30-11:30 AM
Saturday, January 29, 2022, 10:30-11:30 AM
Saturday, March 26, 2022, 10:30-11:30 AM
Mentoring Conference
October 23, 2021 – 10:00 AM – 3:00 PM
Conference Information
Have a question or need help? Contact your District or State Mentoring Chairs.
NWKMEA: Bill Schick mentoring[at]nwkmea.org
NCKMEA: Jamie Rogers mentoring[at]nckmea.org
NEKMEA: Anne Neal mentoring[at]nekmea.org
ECKMEA: Jason Sickel mentoring[at]eckmea.org
SWKMEA: Shara Bane mentoring[at]swkmea.org
SCKMEA: Gretchen Bixler and Ron Chronister mentoring[at]sckmea.org
SEKMEA: Mary Jo Harper mentoring[at]sekmea.org
State Co-Chairs: Janelle Brower, Holly Taylor and Lynn Unruh mentoring[at]ksmea.org
New Teacher Handbook
Be sure to check out the New Teacher Handbook, a helpful resource designed for both first and second year teachers and experienced teachers who are new to Kansas.
Are you an experienced teacher who is new to Kansas?
Welcome!! While the KMEA State and District websites are a great resource to help you learn how things work in Kansas, sometimes it helps to talk through the details with an experienced colleague. Contact mentoring[at]ksmea.org to ask questions or to get connected with job-alike colleagues in your area.