Kansas Consortium of Music Teacher Education Professors and Students
Sep. 27-28, 2020
Registration is open in the KMEA Members site for 'current' NAfME-KMEA members. The 2020 KCOMTEPS conference will be offered at NO COST to attendees.
The 2020 KCOMTEPS will be held virtually via GoToWebinar. More information will be released once plans have been completed. All registrants will receive a program containing the schedule and links to each clinic as we get closer to the conference.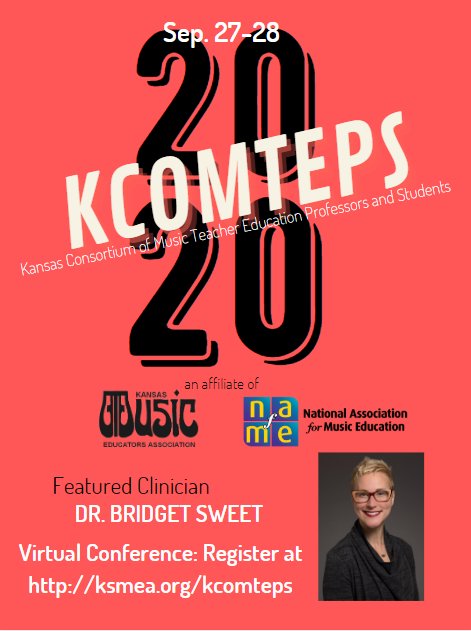 ---
Connect with us on Facebook
Society for Music Teacher Education-Kansas Chapter
---
2020 Clinician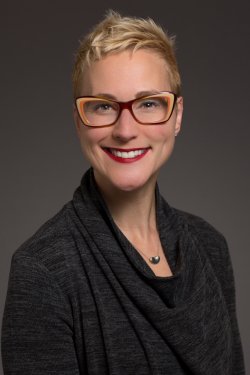 Bridget Sweet
2021 KMEA All-State Middle Level Choir Conductor

Bridget Sweet is Associate Professor of Music Education at University of Illinois in Urbana-Champaign, Illinois. After completing her Bachelors Degree in Music Education at Western Michigan University, Dr. Sweet enjoyed a successful tenure as a middle school choir teacher for nearly ten years. Her interests in adolescent music education intensified during her Masters and Doctoral programs in Music Education at Michigan State University, which contributed to her research focused on characteristics of effective and exemplary music teachers. Prior to her work at the University of Illinois, Dr. Sweet was Assistant Professor of Music at Bucknell University in Lewisburg, PA, where she taught music education courses and coordinated the music student teaching program. At the University of Illinois, Dr. Sweet teaches music education pedagogy, including choral methods and literature, middle-level general music methods, graduate courses in music education, as well as a course focused on the development of healthy practices for all musicians.
Dr. Sweet has worked extensively with adolescent singers as a teacher, clinician, and adjudicator. She wrote the books Growing Musicians: Teaching Music in Middle School and Beyond (2016, Oxford University Press) and Thinking Outside the Voice Box: Adolescent Voice Change in Music Education (2019, Oxford University Press). Dr. Sweet's research interests include middle level choral music education, female and male adolescent voice change, empowering music educators, health and wellness, and intersections of diversity and the music classroom. Her research has appeared in publications of Bulletin of the Council for Research in Music Education, Choral Journal, International Journal of Music Education: Research, Journal of Research in Music Education and Update: Applications of Research in Music Education. She was invited to author the chapter "Qualitative Choral Music Research" in The Oxford Handbook of Qualitative Research in American Music Education (2014). Dr. Sweet is an Advisory Board member of Bulletin of the Council of Research in Music Education and member of the Editorial Committee of the International Journal of Research in Choral Music, Journal of Research in Music Education, and Qualitative Research in Music Education.
---
Sessions
Session links and hand-out files will be posted in the KMEA Members site as they become available.

---
Registration Fees
No fee required for the 2020 KCOMTEPS

---
About KCOMTEPS
KCOMTEPS is a state organization, unique to Kansas, providing a structured framework for faculty discussion on topics relevent to music teacher education. Membership includes music teacher education professors from public and private colleges and university as well as representatives from Kansas community colleges. KCOMTEPS meets regularly each fall.
KCOMTEPS, organized 35+ years ago, was at the forefront in the development of the state music standards and, later, in working with KSDE to develop a unified and consistent approach to music teacher education program assessment at our various schools. Members continue to actively work toward improved course transfer and articulation among our programs and in collaboration with our state community colleges. Each fall the organization sponsors the annual workshop as a collaborative event with collegiate NAfME student members.
At the June 2012 KMEA Board Meeting, members approved the merger of KCOMTEPS as a part of KMEA. The move is valuable for both groups. The arrangement will allow for the continuation of KCOMTEPS' work under the more inclusive KMEA umbrella. KCOMTEPS will continue as the annual fall conference for faculty and NAfME Collegiate members. KMEA financial and staff support will assist with this annual gathering.
---
Minutes
Sep. 30, 2019
Oct. 1, 2018
Sep. 25, 2017
Sep. 26, 2016
Sep. 28, 2015
Sep. 29, 2014
KMEA Mentoring Network
Mentorship is an important component to the success of our new teachers. The KMEA Mentoring Network works to ensure the success of early career music educators in Kansas.