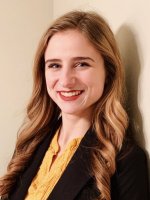 Hello,
My name is Abbi Faflick, and I am humbled to serve as your NAfME Collegiate President. Throughout the next year I will represent the Music Education majors in the state of Kansas to the best of my abilities. My goals throughout this presidency are to connect music educators and students throughout the state in our shared purpose. While we look towards the year my hope is that all of our members can remind themselves of the motivation to teach. As college students we are presented the opportunity to equip others while we learn. We are in the unique position to empower ourselves as students, one another as colleagues, and other generations through our shared passion and purpose in music education. I hope that reflection on this motivation can help each person stay connected to our organization and mission as future educators.
There is a quotation from Confucius that reads, "The mark of any golden era is that children are the most important members of a society and teaching is the most revered profession."
I wish that these words can remind you of the power you hold as a music educator in a young learner's life. I challenge you all to teach and learn from the world around you, as you share the light you posses with your own students and communities.
Thank you for reading and for giving me the opportunity to serve our state! Please feel free to contact me with any questions or concerns throughout the year.
All the best,
Abbi Faflick
Kansas Collegiate NAfME President