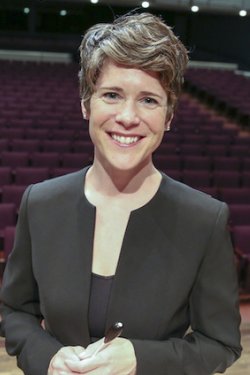 Emily Threinen
2018 KMEA All-State 56A Band Conductor

Emily Threinen serves as Director of Bands and Associate Professor in the School of Music at the University of Minnesota. She conducts the acclaimed Wind Ensemble, guides the graduate wind band conducting program, instructs undergraduate conducting, and provides administrative leadership for all aspects of University of Minnesota Bands.
Prior to her appointment at Minnesota, Threinen served as Director of Bands and Associate Professor of Music at Temple University in Philadelphia, Pennsylvania; Director of Bands, Assistant Professor of Music, and Instrumental Division Chair (2010-11) at Shenandoah Conservatory of Shenandoah University in Winchester, Virginia; Director of the Duke University Wind Symphony in Durham, North Carolina; Director of the Concordia University Wind Ensemble in Ann Arbor, Michigan; Conductor of the Dodworth Saxhorn Band in Ann Arbor, Michigan; and Director of Bands and Instrumental Music at Harding High School in St. Paul, Minnesota, receiving the Outstanding Teacher Award.
Threinen consistently works with composers, arrangers, and performing artists of varied disciplines. Residencies and projects with composers and new compositions are integral to her creative work. Threinen is published in multiple volumes of the GIA Teaching Music Through Performance in Band book series where she has been recognized as a strong scholarly contributor. She is an active guest conductor, clinician, and conference presenter.
Significant invited professional engagements in the past five years include: Temple University Wind Symphony Chamber Winds performance "Homage to Mozart" at the 2015 World Association for Symphonic Bands and Ensembles Conference in San Jose, California; Temple University Wind Symphony performance "Philadelphia Stories" at the 2015 College Band Directors National Association National Conference in Nashville, Tennessee; Conductor of the 2016 Pennsylvania All-State Band, 2015 Vermont All-State Band, 2015 West Virginia All-State Band, and 2015 TMEA All-State 5A Symphonic Band; Conductor of La Banda Primitiva of Llíria, Spain in 2014; Guest Conductor with the US Army Field Band in 2014; Temple University Wind Symphony performance "Crossing Over" at the 2014 Eastern Division College Band Directors National Association Conference in Boston, Massachusetts; Conductor Residency at Queensland Conservatorium in Brisbane, Australia in 2013; Conductor Residency with Projeto Guri in Sao Paulo and Bauru, Brazil in 2013; Guest Conductor with the West Point Concert Band of the United States Military Academy in West Point 2012 & 2013; Conductor Residency at the University of British Columbia in Vancouver, Canada in 2012; and Co-presenter at The Midwest Clinic in Chicago, Illinois in 2012.
In 2016, the dual compact disc recording "Wind Concerti: Temple University Wind Symphony with Soloists from The Philadelphia Orchestra and Faculty" was released; Threinen is the conductor and co-producer.
Threinen received a Doctor of Musical Arts degree in Conducting from the University of Michigan under Michael Haithcock; a Master of Music degree in Conducting from Northwestern University under Mallory Thompson; and a Bachelor of Music dual degree in Clarinet Performance and K-12 Instrumental Music Education from the University of Minnesota with mentorship of Craig Kirchhoff. After undergraduate studies, Threinen was the Director of Bands at Harding High School for three years and performed as a clarinetist in the Metropolitan Symphony Orchestra and semi-professionally in the Minneapolis-St. Paul area.
Threinen currently serves on the Board of Directors of the Conductors Guild and was elected to the American Bandmasters Association in 2016. She is an active member of these organizations: World Association for Symphonic Band and Ensembles (WASBE), College Band Directors National Association (CBDNA), National Band Association (NBA), National Association for Music Education (NAfME), Pi Kappa Lambda, and Kappa Kappa Psi as an honorary member.