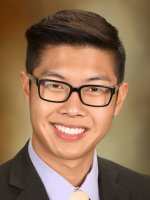 Hello,
My name is Panya Amphone, and I am honored to serve as your NAfME Collegiate President! As the president, I will represent the Music Education majors of the state of Kansas to the best of my abilities. My hope for my presidency is to guide this organization to becoming connected and united not only with other music educators in the state of Kansas, but around the nation.
As we go about our year, take a moment to think about why you teach music. When was the moment that inspired you to want to teach music? What about that moment inspires you to teach music? Is it to share your love of music? To empower students to be better human beings? Reflect upon that, and use the answers as your strength to overcome your hardships that you face as you pursue your degree, and to guide you to become a better musician and educator.
There is a quote from Gerald Ford that reads,
"Music education opens doors that help children pass from school into the world around them a world of work, culture, intellectual activity, and human involvement. The future of our nation depends on providing our children with a complete education that includes music."
Thank you for reading and if you have any questions or concerns, please feel free to contact me!
Best wishes,
Panya Amphone
Kansas Collegiate NAfME President