Register for 2019 ISW
In order to register for the 2019 In-Service Workshop your NAfME membership must expire March 2019 or after. If your NAfME membership expires February 2019 or before you must renew before registering for ISW.
---
NAfME Membership Renewal
You may renew your NAfME Membership anytime online at the NAfME website.
NAfME-KMEA Dues
Rates expire: June 30, 2019
Active – $120.00
Retired – $49.00
Collegiate – $29.00
---
2019 In-Service Workshop Registration Fees
KMEA & KMTA members (Active teachers)
Registration: $75
On-site fee: $10
Credit card surcharge: $3
Spouse registration: $10
Retired member and spouse: FREE
NAfME Collegiate members
Workshop Registration: $10
Workshop Registration + Luncheon: $20
Credit card surcharge: $1
On-Site Registration (no luncheon): $40
New Teacher Luncheon
K-12 music teachers new to the profession are invited to a free lunch sponsored by KMEA and the Kansas Music Merchants Association. Registration required.
---
Registration Table Hours during the workshop
Thursday – 11:30 AM – 5:00 PM
Friday – 7:30 AM – 5:00 PM
Saturday – 7:30 – 10:00 AM
KMEA will not accept school purchase orders at the Registration Table.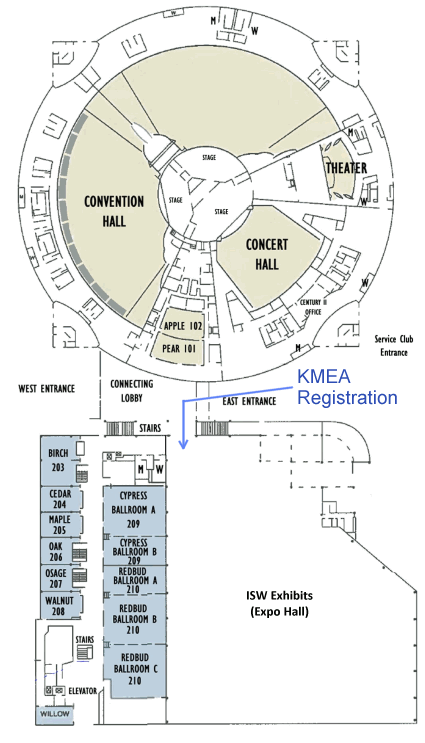 What is the difference between Pre-Registration and Registration?
By pre-registering, you save $10 plus you won't have to stand in line to register at the conference! Pre-registered members will have their convention badge mailed to them ahead of the conference – simply walk in, grab a badge holder, and enjoy the conference!