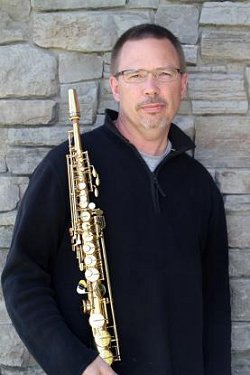 Steve Owen
2018 KMEA All-State Jazz Band Conductor

Steve Owen (composer. conductor, saxophonist) is a Philip H. Knight Professor of Music and Director of the University of Oregon's Jazz Studies Program. Under his leadership, the UO Jazz Studies Program has garnered the reputation as one of the finest and most innovative programs in the Pacific Northwest. In 1991 Owen was one of two winners of the Ersted Award, the University of Oregon's top faculty award for distinguished teaching and in 2007 was likewise honored with the university's Excellence in Teaching Award. He directs the Oregon Jazz Ensemble (the first of three large jazz ensembles at Oregon) and two of the school's ten jazz combos. Under Owen's direction, the Oregon Jazz Ensemble has performed at every major jazz festival and educational conference in the Pacific Northwest and has been selected the "Outstanding College Big Band" at the Reno Jazz Festival each year that the group has attended over the past 15 years. The group also performed at the 2005 International Association of Jazz Educator's Convention in Long Beach, California and was a 2008 Downbeat Award Winner in the College Big Band category.
Steve has presented clinics at MENC conventions across the nation and has directed All-State jazz ensembles in Colorado, Connecticut, Arizona, Texas, Nevada, California, Nebraska, Kansas, New Mexico, and Minnesota as well as Oregon. A composer and arranger of international prominence, Owen's works have been performed by Bobby McFerrin, Dave Weckl, Anne Marie Moss, among others with recent commissions and performances by the Hessischer Rundfunk Big Band (Frankfurt, Germany) and the Taipei Jazz Orchestra. Steve's own CD, Stand Up Eight, was released by Origin/OA2 Records in February 2013 featuring nine of his works for large jazz ensemble. Steve's music is published by UNC Jazz Press, Heritage JazzWorks, and Sierra Music.